New Forum for Thunder&Lightning
Written by Jonas Eschenburg
Monday, 25 July 2011
The forum on this site has recently (again) become riddled with spam. Thanks to Charlie of Free Gamer fame, the Thunder&Lightning forum has found a new home on FreeGameDev. I hope being relieved of the burden to maintain the forum will give me more time to develop on Thunder&Lightning.
In other news: Thunder&Lightning's source code and assets are now maintained on Github.
Last Updated ( Monday, 25 July 2011 )
Getting back on track in 2010
Written by Jonas Eschenburg
Wednesday, 06 January 2010
This is what happens if you try to do too many things at once.

It has been almost two years since the last news update. Even worse, there hasn't been a lot of progress during that time. Overwhelmed by the sheer amount of work that still needs to go into TnL and having trouble finding the motivation to work on such a large project in my increasingly valuable free time, development has almost completely stalled. I'm a professional software developer and working on software problems half the day makes me reluctant to spend the other half in front of a computer, too.

And yet I miss the countless hours spent tweaking missile guidance, enhancing enemy AI, designing futuristic aircraft, writing graphics shaders and creating my own world. It has always been a very creative process. But then there are a lot of cumbersome tasks like maintaining a build system for several target architectures, dependency management and software packaging. I also failed at maintaining a web site. My apologies for the spam-ridden forum which is completely unusable at the moment.

Those are what kept me from continuing to work on TnL. In order to get back on track, I must leave some these tasks to others. This is a non-profit work and I don't have a team of software developers at my disposal, so I must trust in the power of the open source community.

Let's all work together to make the Open Source games community as great as it deserves to be! Let's make 2010 a year that rocks!

Jonas
Screenshot Of Upcoming Mac Port
Written by Jonas Eschenburg
Friday, 21 March 2008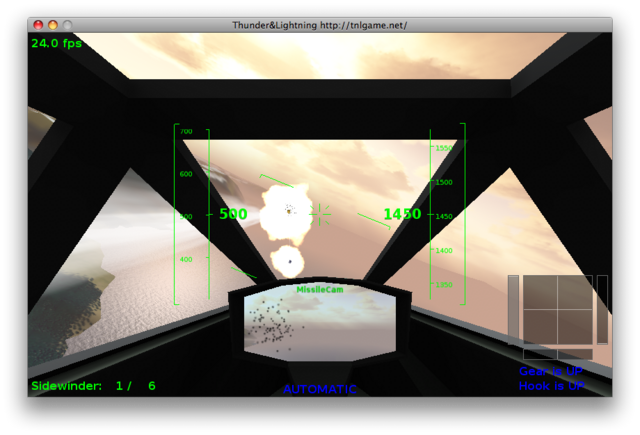 Just to prove that there is actually something going on here. In fact, I have been spending lots of time getting TnL to run on the Mac, I hope it was worth the trouble. But anyway, learning how to use Apple's Xcode was a nice experience. Using Apple's OpenGL driver: not so much.
Last Updated ( Friday, 21 March 2008 )
Thunder&Lightning on Mac OSX
Written by Jonas Eschenburg
Sunday, 24 February 2008
In desperate need of new hardware (my development notebook had broken for the second time in a month) I went to the stores and did something I always wanted to: I bought a Mac. It's a beautiful 20" iMac.
I didn't yet succeed in compiling TnL for it though. CEGUI, the game's user interface library, has been causing problems. Any help is appreciated.
Just to be clear: I will continue to release first-class Linux releases, including Autopackages. I will also try to prepare a Mac release. I could use help with Windows though, as I currently don't own a development PC with the MSVC suite.
Last Updated ( Sunday, 24 February 2008 )
Bugfix release: Thunder&Lightning 071111
Written by Jonas Eschenburg
Saturday, 10 November 2007
Following the recent release of 071031, this bugfix release is meant to solve the dependency problems many users had. Additionally, performance has been significally enhanced by implementing scripting functionality in C++.
Update: If the game crashes on startup, uninstall with:
package remove tnl cegui
Then reinstall the autopackage.
Read more for the full list of changes.
Last Updated ( Sunday, 11 November 2007 )
Read more...
Thunder&Lightning 071031 Released
Written by Jonas Eschenburg
Thursday, 01 November 2007
Important update: For help and dicussion about installation of the autopackage, please go here.
I'm proud to present to you the release of Thunder&Lightning 071031 "Halloween Is Not Over Yet".
This release includes a graphical user interface (CEGUI), marking the end of having to relaunch the game every time the mission is over. It also means that basic settings and control mappings are now configurable from inside TnL. This was a very big step that needed a lot of development effort. Additionally, a nice and shiny new radar screen provides tactical information. I hope you like it!
To download, go to the download area. Screenshots are provided here. As always you will find help with any problems in the forum.
Update: Toni Graffy has kindly provided RPMs for OpenSuSE .
Click "read more" to see the full list of new features...
Last Updated ( Monday, 05 November 2007 )
Read more...
Written by Jonas Eschenburg
Tuesday, 30 October 2007
Something that has always limited TnL's tactical depth is the simplistic implementation of radar. No, I'm not talking about a flashy radar screen (well, not yet) but those little marker boxes displayed around other units. Yes, they're supposed to come from a radar in your Lightning. But whether you see an enemy unit's marker box or not wasn't handled intelligently: Every unit within a certain distance to the player was shown.
With the recent updates to Thunder&Lightning's radar system, this is no longer the case. Instead, enemy units only appear on the radar when there is an unobscured line of sight to the target. Friendly units however always appear, whether they're obscured by terrain or not. Additionally, units of the same faction communicate their radar contacts to each other, forming a radar network. This means that now every unit can see what every other unit of the same team is seeing, giving numerous possibilities for reconnaisance missions.
And now,let's get back to the flashy radar screen I promised! Here it is, and it's looking gorgeous in action:
Last Updated ( Wednesday, 07 November 2007 )
<< Start
< Prev
1
2
3
Next >
End >>
Results 1 - 12 of 32